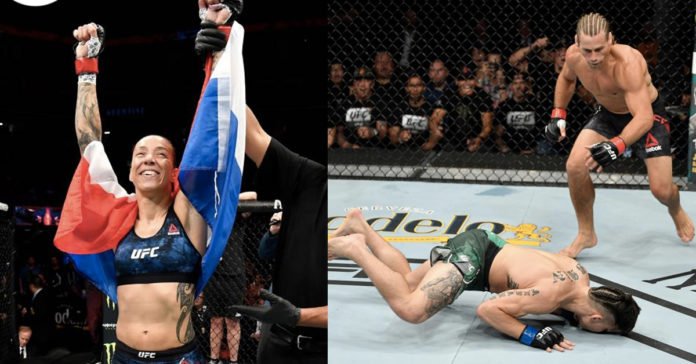 UFC Sacramento è stata una gran nottata di incontri. L'Hype non era al massimo come gli altri super eventi degli ultimi mesi. Nonostante questo abbiamo visto degli ottimi combattimenti e knockouts.
Il main event prevedeva la sfida tra l'ex campionessa Germaine de Randamie e l'imbattuta Aspen Ladd.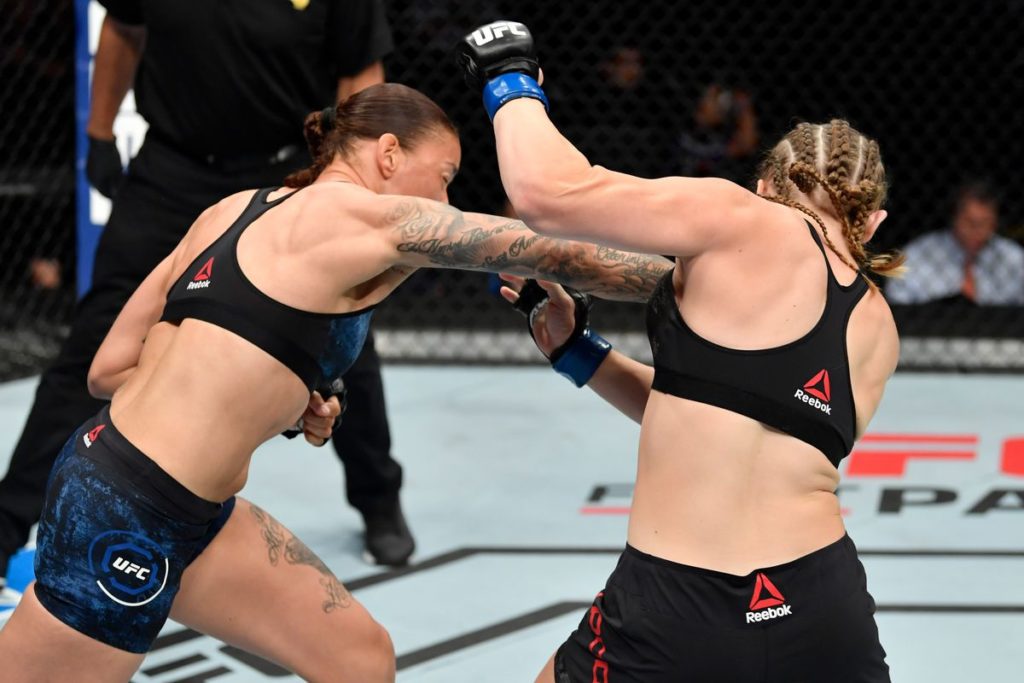 Passano solo 16 secondi e "The Iron Lady" stende la sua avversaria con un gran destro, direttamente sulla mascella. Aspen Ladd cade a terra colpita da un sinistro di Germaine.
A quel punto il buon Herb Dean ha pensato bene di intervenire e fermare l'incontro. Poche polemiche sullo stop dell'arbitro però da parte della Ladd.
Il co-main event della serata invece prevedeva il ritorno dell'Hall of Famer Urijah Faber (40 anni), accolto da Ricky Simon (26 anni).
Il compito non era assolutamente facile per il "California Kid", beniamino del pubblico di Sacramento.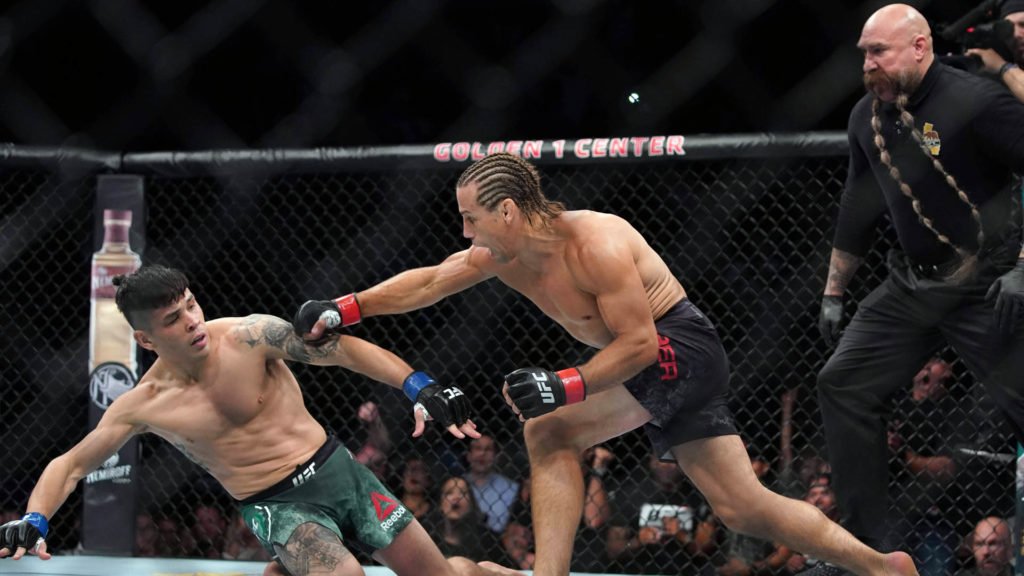 Simon parte forte e pressa Faber per un minuto e mezzo. Urijah, fighter molto esperto, lo aspetta e piazza un destro micidiale che manda a terra il suo avversario.
Un solido ground and pound ed è la fine dell'incontro.
Grande rientro nell'ottagono per Faber, che a fine intervista sfida il Triple Champ Henry Cejudo.
Ecco i risultati dell'intera card di UFC Sacramento:
Main Card
Germaine de Randamie vs. Aspen Ladd – de Randamie def. Ladd via TKO at :16 of Round 1
Urijah Faber vs. Ricky Simon – Faber def. Simon via TKO (punches) at :40 of Round 1
Mirsad Bektic vs. Josh Emmett – Emmett def. Bektic via TKO (punches) at 4:25 of Round 1
Karl Roberson vs. Wellington Turman – Roberson def. Turman via split decision (29-28, 28-29, 29-28)
Cezar Ferreira vs. Marvin Vettori – Vettori def. Ferreira via unanimous decision (30-27 x3)
Prelims
Mike Rodriguez vs. John Allan – Allan def. Rodriguez by unanimous decision (29-28 x2, 30-27)
Andre Fili vs. Sheymon Moraes – Fili def. Moraes via KO (punches) at 3:07 of Round 1
Nicco Montano vs. Julianna Pena – Pena def. Montano via unanimous decision (29-28 x2, 29-27)
Darren Elkins vs. Ryan Hall – Hall def. Elkins via unanimous decision (29-28 x2, 30-27)
Jonathan Martinez vs. Liu Pingyuan – Martinez def. Pingyuan via KO (Knee) at 3:54 of round 3
Livinha Souza vs. Brianna Van Buren – Van Buren def. Souza via unanimous decision (30-27 x3)
Benito Lopez vs. Vince Morales – Lopez def. Morales via unanimous decision (29-28 x3)